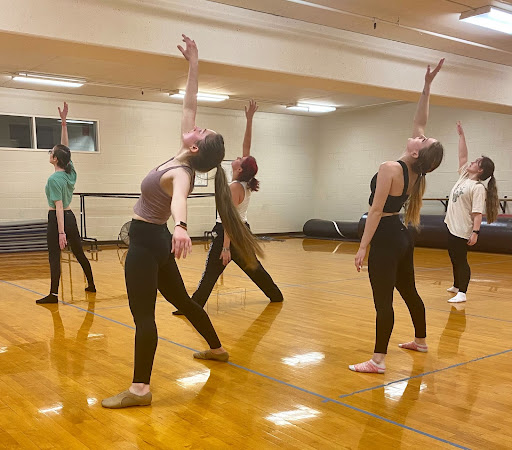 Student showcase planned for this weekend – The Linfield Review
At Linfield University, many talented groups go unnoticed. One such group is Linfield's Dance Ensemble, led by choreographer and teacher Sarah Shouse.
Housed in the music department, many Linfield students don't even know there is a dance program at school. Dance classes belong to the MUSC category and Dance Ensemble is listed as MUSC*070. This ensemble presents a common showcase at the end of the semester.
Anyone can audition for the showcase, even if they are not part of the class. Zee Nace, a Linfield sophomore, is one of the students right in the showcase. "I couldn't take the class, but I was still welcome to come and audition for the showcase," Nace said.
The Linfield Dance Ensemble Showcase will be held this year at ICE Auditorium on May 6-7 at 7 p.m. The show will feature nine dances from the ensemble and two from Linfield's LatinX Adelante Club, LULA. Attendees can expect modern, jazz, tap, spoken word and folklorico performances.
Five of the dancers in the showcase are students from Linfield and the other five are students from Oregon State University. Shouse also teaches at OSU and decided to have a few collaboration pieces between Linfield and OSU students in the showcase.
A week before the show, the OSU and Linfield dancers were able to practice together for the first time this semester.
"I don't know if it was necessarily difficult to merge the two groups because both were sufficiently prepared. The combination of the two groups gives an energy boost because each group finally sees the pieces coming together," Shouse said.
Shouse allowed students to choreograph dances as part of the learning experience.
"The Linfield Ensemble was able to choose their own kind of dance and what they wanted to do musically," she said. "We just started working through different choreographic devices and different ideas that they wanted to incorporate into the dance. They have the freedom to explore creatively.
For the students, the choreography was new, but exciting. Aimee Ritchy, a freshman at Linfield, had a great experience trying new things with her classmates. "I choreographed the tap dancing that we do. It went really well because these ladies learned to type really fast," Ritchey said. "I'm very impressed with what people have done.
Ritchy, having some tap dancing experience, helped guide the other students, as the others had minimal tap dancing experience. But there was no judgment, as Ritchy pointed out. "We're here to make dancing a non-toxic atmosphere," she says.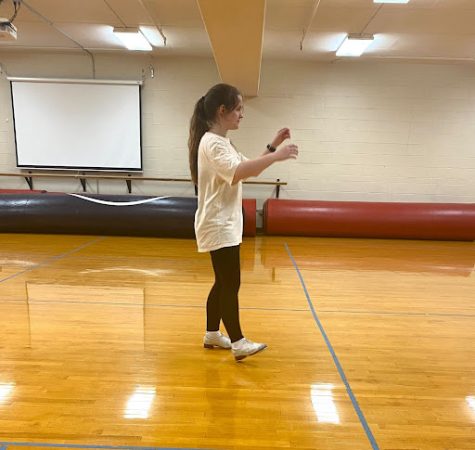 Other dancers were also able to choreograph their favorite styles. Rookie Alice Cowie choreographed a dance. "I have a 60s jazz musical theater themed dance. It's fun, it reminds me of my roots in musical theater as I used to compete in musical theater over the years to the dance," Cowie explained.
Emma Bare, also a freshman at Linfield, took another route. "My dance is contemporary in style, which stems from my studio training. I got to choose the song and I choreographed my own dance," Bare said.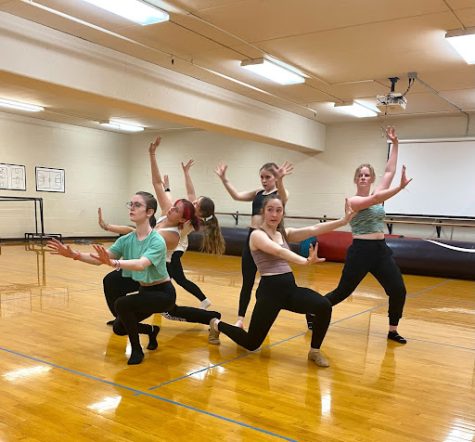 Cowie believes dance is for everyone. "You don't have to be good, we just want people to have fun. Dance isn't very well known as an art form or as a sport and just bringing the people to take a look is worth the dance," Cowie said.
Continuing with a smile, Cowie pointed out that it's not always an easy path, even if the dancers make it look easy. "Even as someone who has practiced, I still have a hard time remembering that I'm still a good dancer. Even if you mess up and fall, I literally fell flat on my stomach earlier, but that didn't didn't negate my dance skills, you get up and carry on," Cowie said.
Freshman Savy Short, the newest member of the ensemble, has cheerleading on his list of dance skills. "I've learned that you're going to make mistakes, you're going to mess up, but knowing you can practice and improve is a push to improve, and knowing mistakes are okay helps encourage growth," Short said of being newer. Dance.
The community created by the set also helps to encourage growth. "This course is literally a friendship, there is a connection in the air, it is a found friendship. I could be cliché and call it family," Richty said.
Nace had a similar feeling. "Dancing gives you a sense of community. You can have your own individual dance journey, but having a group of people to dance with helps you feel confident in the individual dance you're performing," Nace said.
When asked what the dancers wanted the audience to take away from the show, Richty responded fervently and asked for the words to be capitalized in this story. "JOIN THE DANCE!" COME WATCH! ENJOY!" said Richty.
Join the Linfield Dance Ensemble on Friday, May 6 and Saturday, May 7 at ICE Auditorium at 7 p.m. for their showcase. Tickets are free for K-12 and Linfield students with ID, and $10 for everyone else. Proof of vaccination or a negative COVID-19 test is required for entry.