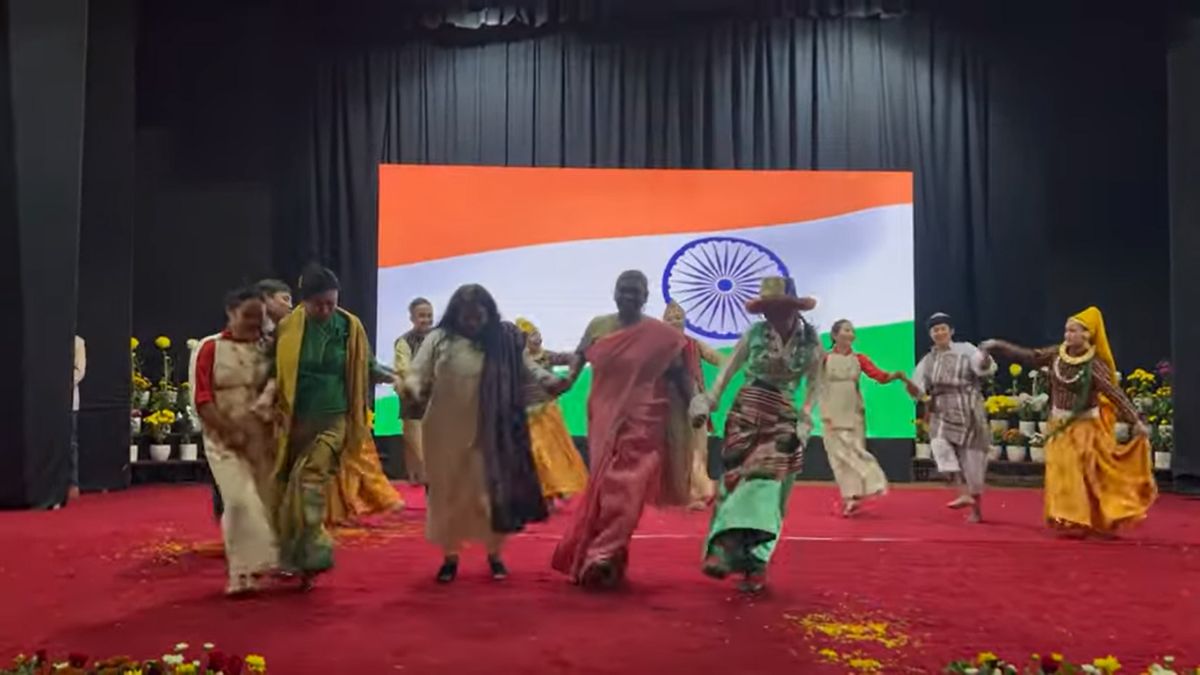 President Draupadi Murmu dances with a local dance troupe in Gangtok, Sikkim; Video surfaces
The Government of Sikkim held a civic reception in honor of President Draupadi Murmu. The President was in Sikkim for a 2 day visit and during this time she also attended the civic reception. The event was held in the beautiful capital of Sikkim, Gangtok on November 4, 2022. She practically laid the foundation stone of different crucial projects during this civic reception event.
President Draupadi Murmu performed with local troupe in Gangtok
Draupadi Murmu was seen dancing with the local dance troupe at the event held on Friday. She participated in the "integration dance" with the local troupe. Also, Krishna Rai, the wife of Chief Minister of Sikkim Prem Singh Tamang, joined the President and the dance group on stage. The video of this glorious event was shared on the official Twitter account of President of India.
President Draupadi Murmu and Smt Krishna Rai, wife of Sikkim's Chief Minister, joined members of a local dance troupe who performed the 'Integration Dance' in Gangtok in his honor. The dance captures the diversity, beauty and unity of Sikkim's culture. pic.twitter.com/gt19deQ236

— President of India (@rashtrapatibhvn) November 4, 2022
Also Read: President Draupadi Murmu Says Nagaland Can Become India's Biological Basket; Here's all about it
The Youtube channel of the President of India also shared the video of Murmu and Krishna Rai performing the integration dance on stage with the members of the local dance group.
She inaugurated the first stone of many projects
During this event, Draupadi Murmu laid the foundation stone for key Sikkim projects. The Rashtrapati Bhavan shared in a statement that it has started projects on different aspects such as education, health, road construction and tourism sector.
Also read: President Draupadi Murmu to fly to London for Queen Elizabeth II's funeral
While visiting Sikkim, she was delighted to see the state's high literacy rate. Sikkim has over 80% literacy, making it one of the best states in the country when it comes to education. In fact, Sikkim gets the top position in India for highest enrollment in higher education. According to the figures, the schooling of girls exceeds the schooling of boys. She also appreciated Sikkim's efforts in organic farming and the steps taken to develop an environmentally friendly state.
The President visits different states of the country, one at a time. She went to Mizoram before coming to Sikkim. During her visit to Mizoram, she also addressed the Mizoram Legislative Assembly, according to a report by Hindustan Times. In addition, she visited the village of Kigwema in Nagaland.
Cover image courtesy of Youtube/ President of India