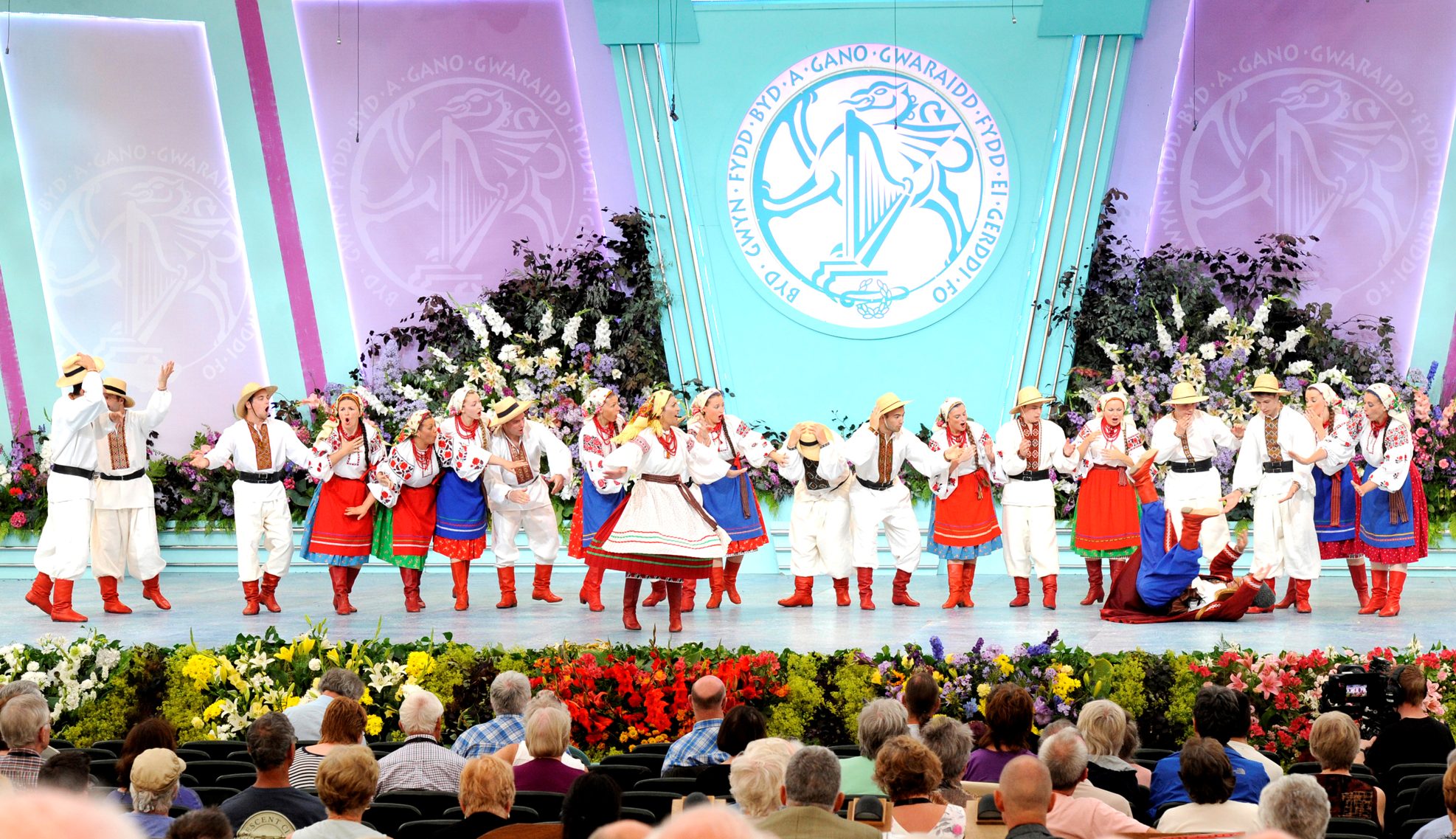 Orlyk Ukrainian Folk Dance Ensemble: Representatives of Ukrainian dance in Great Britain
In these desperate times in which Ukraine finds itself, it is more important than ever to spread its culture and heritage.
Located in north Manchester is the Ukrainian Cultural Centre, which describes itself as the "hub" of Manchester's Ukrainian community on its Facebook page.
Three days a week it opens its doors to allow people to donate items to help the plight of those suffering from the ongoing Russian invasion.
But for two nights a week, the Orlyk dance group calls it home, and they use the center to rehearse their upcoming shows.
Founded in 1949 by Petro Dnistrowyk and named after exiled Ukrainian Cossack leader Pylyp Orlyk, they are one of many Ukrainian dance groups across the UK.
What elevates it above all others, however, is that it is the representative dance ensemble of the Association of Ukrainians in Britain – and has been since its founding 73 years old.
Its members have taken part in a wide variety of performances and events, including festivals, theater productions, weddings and other corporate functions.
One of the most defining moments in the band's history was a performance in Ukraine which took place on the day the country declared independence from the USSR in 1991.
However, many English people may recognize the set from their appearances on various popular TV shows including Strictly Come Dancing, Britain's Got Talent and 8 Out Of 10 Cats Does Countdown.
Most recently, some of its members taught Sky Sports News presenter Kyle Walker a traditional Ukrainian dance routine as part of the build-up to the EURO 2020 quarter-final between Ukraine and England.
Bohdan – a British-born Ukrainian who has been with the band for nine years – was one of the people performing that day.
He says: "It was surreal. When you hear the 30 second countdown, you know there is no turning back and millions of people are going to see you dancing on TV and representing Ukraine.
And that is a crucial part of its success: representing and exhibiting Ukrainian culture in the UK and abroad.
Petro – the current leader of the group – said: "It is our duty to perform and present Ukrainian dance, music and song to as many people as possible, and to show different nationalities how Ukrainian culture is rich, dynamic and important."
But the members do not perceive this responsibility as a pressure at all, perceiving it rather as a source of pride and fulfilment.
One of the band's musicians – who also goes by the name Petro – calls it a "blessing".
"It makes you proud," he says. "You know that you represent not only yourself, but also Ukraine."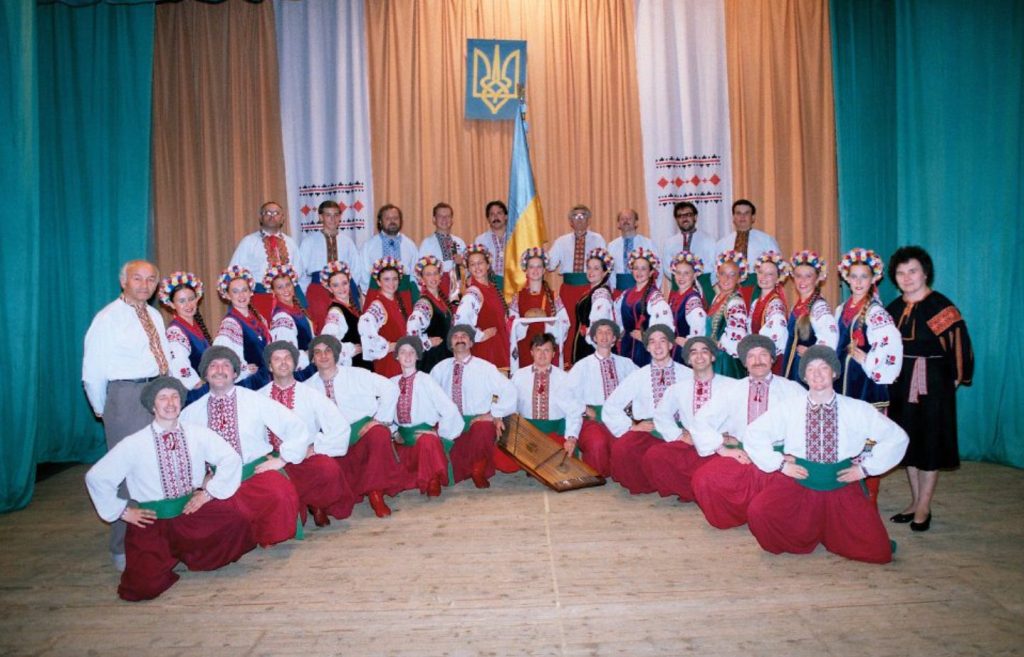 This pride is reflected in the ensemble's close bond and unified desire to keep their traditions alive.
Bohdan realizes this is critical to the quality of his performance as a unit.
"We feel this connection because of our Ukrainian heritage," he says.
"The complicity and the atmosphere are essential to our success. We're all really good friends who love to dance, and the audience can see that, so it reflects in the performances.
Group leader Petro describes it as "like an extended family" with a "team atmosphere".
He adds: "Some of the first generation Ukrainians who came to the UK wanted to maintain these traditions.
"The reason he persevered is because subsequent generations tried to keep the band moving forward, to push the expression of culture forward, and to keep performing and dancing.
"It's important to have something here that's available for people to get involved."
The band also incorporates live music into their performances, which is becoming less and less common among other bands of their ilk.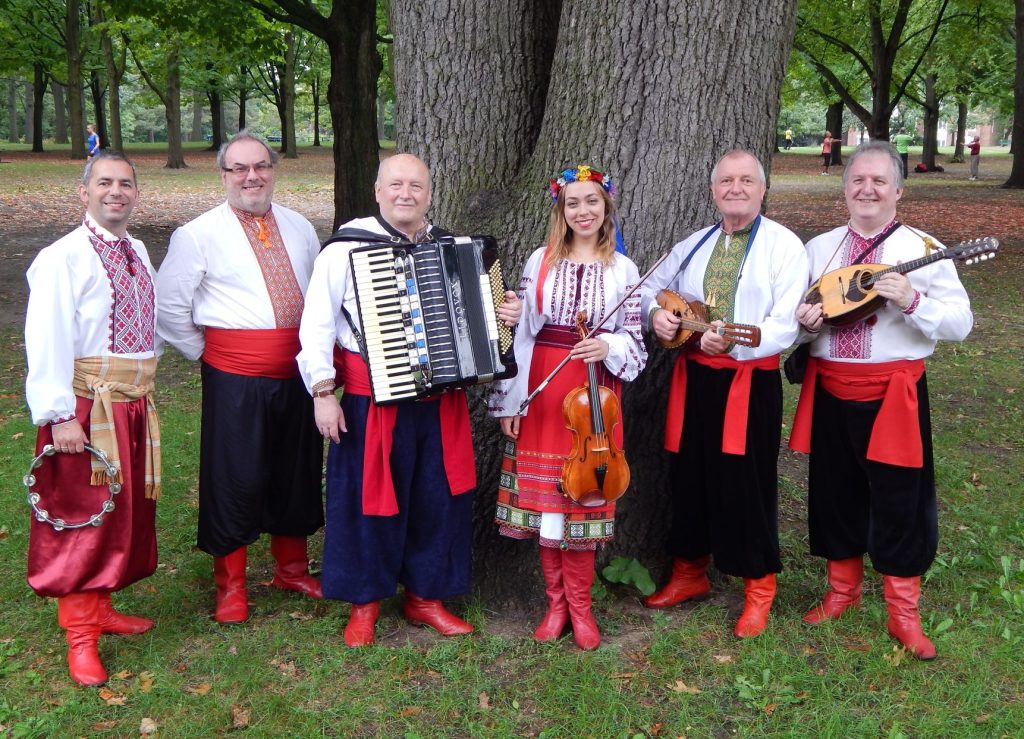 Mandolinist Petro explains: "It is important from our point of view that the music complements the dance. We can change and adapt to all different situations.
"It becomes a more unique selling point because there are fewer bands able to provide musicians.
"It's sad, because we have very talented musicians in the Ukrainian community, but we were brought up with it and we're happy to use it (in our shows)."
Bohdan thinks it "adds a whole new dimension to our performance", saying, "It changes the feel of the group from just being a dance group to being an entertainment group."
It recorded an album of traditional Ukrainian songs, with samples of those songs available to listen to on the band's website, and during the lockdown some of its members recorded a virtual rendition of a Kolomeyka.
Some in-person performances may just be music without the dancers, adding another strand to their brand, making them a bit more marketable.
But in these difficult times for millions of Ukrainians, it is difficult for members of the group to see from afar the atrocities committed by Russian soldiers against many of them in their home country.
Two described it as a "shock", and another thought it was just "not real" when news of the invasion broke.
They reiterate the message perpetuated by President Zelensky: Ukraine is a peaceful nation that does not want war.
"People just want their freedom, get Russian soldiers out of their country and live a peaceful life."
Musician Petro has a lot of emotion in his voice when he talks about it.
"I couldn't believe it at first," he says. "I thought 'This is kind of a joke; he's just trying it out.
"But it's sad to hear the stories, not just about the soldiers who are dying, but the innocent people and the children who are suffering."
"Our children can go out in the park, but in Ukraine they have to climb bombed out buildings not knowing if they are going to stand on an unexploded bomb or a mine. That's not how it should be these days.
"It makes you feel helpless, but the Ukrainian spirit in us is strong and you turn that helplessness into a determination to show the world who we are."
Group leader Petro adds, "Now more than ever, it is important that we continue to educate and promote our culture through music and dance.
"We want to express our solidarity with Ukraine, so participating in fundraisers and charity events for Ukraine is the least we can do in these difficult times."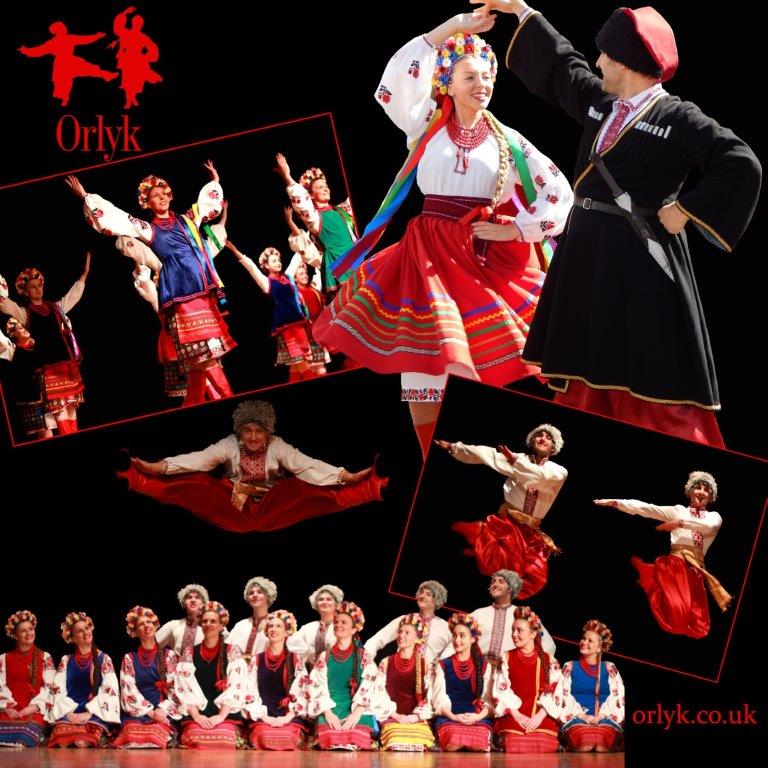 Last month the band performed at an event at De Montfort Hall in Leicester which has so far raised over £25,000 for the Disaster Emergency Committee.
He is organizing many more events in the coming weeks and months to support the official #HelpUkraine emergency appeal, and the importance of his work is deeply felt.
"Doing things like dancing and singing makes people aware of what's going on and gives them an understanding of the situation," says Bohdan.
"We just need to keep doing more shows and parades to spread the word about what's going on and show the culture and heritage that all these soldiers are fighting for.
"That's probably one of the most crucial points in the band's existence with everything that's going on right now.
"If there is a time to show what Ukraine is, it's now."
And what better way to do that than by preserving the country's most important cultural traditions: music, dance and entertainment. Three things that Orlyk provides – and will almost certainly continue to provide in years to come – in abundance.