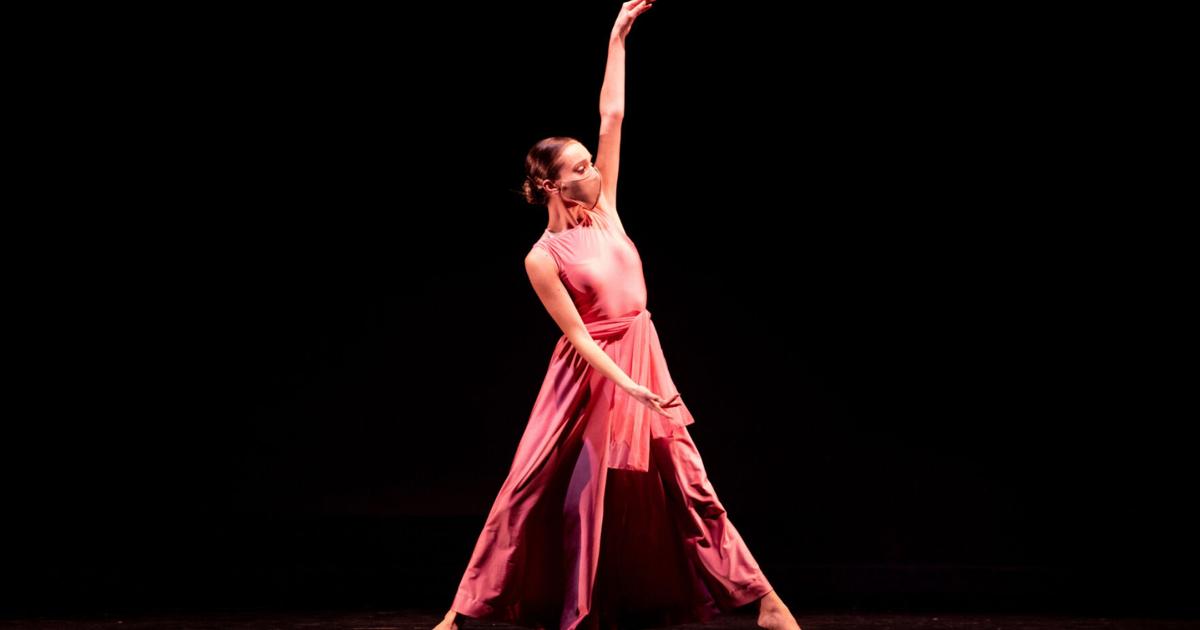 Geneseo Dance Ensemble will perform "without limits" | Lifestyles
GENESEO – While audiences may be limited due to the COVID-19 pandemic, performers will not.
The Geneseo Dance Ensemble is set to present "Dancing Without Limits," a performance featuring live and digital works created by SUNY Geneseo dance studies faculty and student choreographers. The works will feature 25 performers.
Performances are scheduled for 7:30 p.m. March 4-6 and 2 p.m. March 7 at the Alice Austin Theater at William A. Brodie Hall on the SUNY Geneseo campus. Due to COVID-19 restrictions, only SUNY Geneseo students, faculty, and staff are admitted. Places will be limited. Admission is free, but reservations are required. Reservations can be made through the student association ticket office or by email to [email protected]
The concert is artistically directed, organized and produced by dance studies professor Jonette Lancos with associate director Mark Broomfield, a 1994 graduate of SUNY Geneseo where he is now assistant professor of dance studies.
Lancos will perform "Forward Into Light", celebrating the efforts of generations of women dedicated to the suffragist movement during the passage of the 19th Amendment to the US Constitution which granted American women the right to vote.
Adjunct faculty member Deborah Scodese-French will perform "Resilience," an image-based dance depicting the struggle and stark beauty of nature to overcome and survive.
Adjunct faculty member Nicolette Ferguson will perform "Masked But Not Silent," acting in solidarity with protesters and all who speak out against racism. Ferguson will also perform "My Path", a solo "remembering and celebrating my ancestors, as I stand on their shoulders".
Dance studies teachers also mentored works choreographed by students enrolled in the dance studies program. Referee Norwood Pennewell selected "Of the Essence" by senior Lauren Hummel and "Becoming" by senior Samantha Bruno. The dance faculty selected the tap dance piece "Fleet-Footed" by junior Zachary Iannotta and "Perspectives" by senior Megan Leczinsky. The Dance Improvisation class will also perform "Action Words" and the Dance Composition class will perform "Sheltered Spring", both conducted by Lancos.
In addition to Lancos and Broomfield, "Dancing Without Limits" is curated and produced in conjunction with senior student assistants Samantha Bruno, Lauren Hummel and Megan Leczinsky. Stage managers are junior Julia Albino, second Hannarose Manning and junior Jake Rogan. The house manager is rookie Rachel Joseph.
Johnnie Ferrell, chair of theater and dance, technical director and lighting and sound designer, is the mentor of several student lighting designers. They are juniors Emma Celt, Caysie Doughty, Madisun Edmond, Tessa Hensler and Jake Rogan, and seniors Raphael Elmasri, Piper Lambert-Vail, Megan Palmer, William Snyder and Emily Zandy.
Bonita Stubblefield, speaker and theater costume designer, designs costumes for "Forward Into Light" and "Resilience."