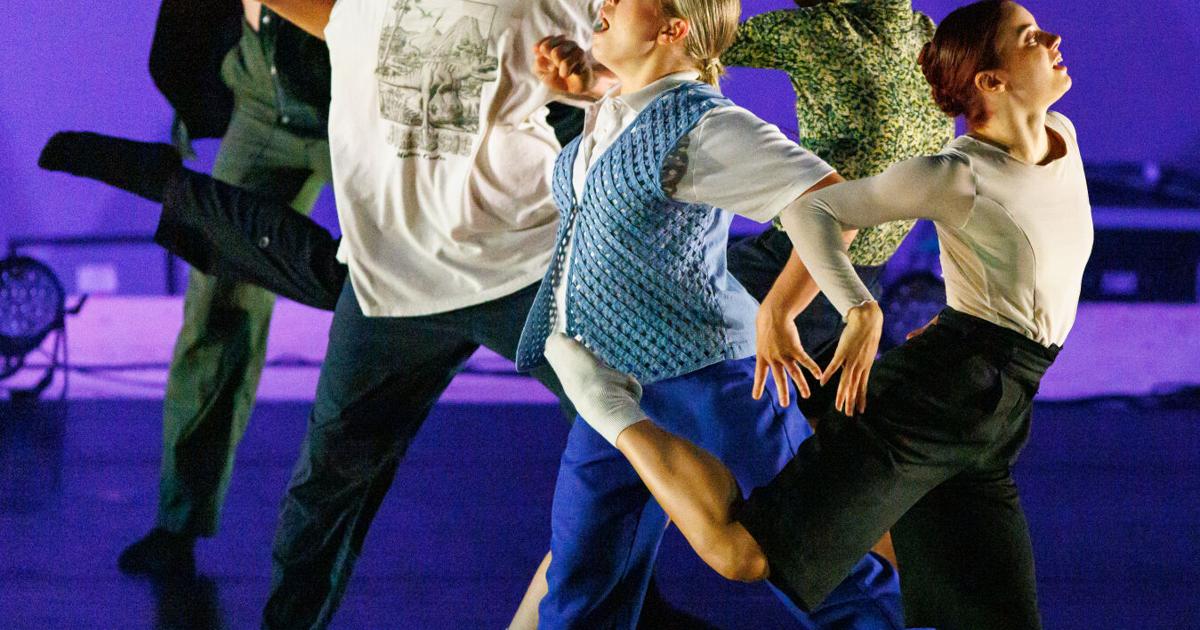 contemporary and hip-hop dance ensemble will perform at Bucknell | Applause
The Weis Center for the Performing Arts will host Micaela Taylor and her Los Angeles-based contemporary dance ensemble, The TL Collective, Saturday at 7:30 p.m. at the Weis Center.
Micaela Taylor is a dancer, choreographer and artistic director, founder and choreographer of TL Collective. Trained in hip-hop and ballet, she created her own genre of dance called Expand Practice, drawing out emotion from the core and creating varied physical shapes and textures as expressions of authentic self. His quirky style of exaggerated facial expressions, gestures and athletic theatrics sets his work apart. Taylor created his own technique and built The TL Collective from the ground up. She received the inaugural Springboard EMERGE Choreography Award, was named Dance Magazine's "25 to Watch" in 2019, and graced the cover of Dance Magazine in April 2020. Most recently, she received the People's Choice Award from San Francisco for the "best solo artist". Taylor's work has been featured at Jacob's Pillow Dance Festival, Broad Stage, Ford Amphitheater, Boston Institute of Contemporary Art, and more. Along with the launch of her company, Taylor was commissioned to choreograph and teach with the Rambert Dance Company, the Getty Museum, BODYTRAFFIC, Springboard Danse Montreal/Gibney Dance Company, Cleo Parker Robinson Dance, B12 Festival Berlin, Carlos Acosta's Acosta Danza, and Moreover. . Upcoming commissions include the Martha Graham Dance Company and a co-commission from Jacobs Pillow and the American Dance Festival.
The TL Collective was founded by Taylor in 2016, ignited by his passion for creating engaging and diverse work. Following the successful LA launch of a premiere work, Molecular Fuel, Taylor has continued to create new works that have been performed in intimate spaces throughout LA. PopMadness (2017), SeeColour (2018) and ROSEWOOD (2018). Due to rave reviews, in 2017 Taylor was commissioned to perform her work; PopMadness in Grand Performances which further exposed his work to the greater Los Angeles community. Since then, The TL has consolidated its repertoire with commissions and presentations from Grand Park, Ford Amphitheatre, The Broad Stage, The ACE hotel and Jacob's Pillow. The TL Collective is now emerging as one of Los Angeles' emerging dance companies.
The company is known for its fusion of contemporary dance and theatrical hip-hop, including elements of groove and acrobatics accompanied by high level athleticism.
The dancers in the ensemble are: Marlie Couto, Maddie Lacambra, Kaia Makihara, Madison Tanguay, Micaela Taylor and Jessie Lee Thorne.
During its stay at the Weis Center, the company will present three works: Pull, Drift and MisFit. This three-part program focuses on evolving a mindset, of being pulled, adrift, to realize who they are.
Pull focuses on the twists and turns of life, focusing on a person who begins their journey with melancholy and focus, but ends with hope and contemplation. Seamlessly transitioning to Drift, the audience sees the layers of emotion peeling away.
Drift seeks to demonstrate an individual's ever-evolving relationship to self, while exposing a personal season of personal growth.
MisFit inhabits six dancers who question their identity and their integration into society while remaining true to themselves. Focus on the concept that everyone, at some point in their life, feels like a misfit. Through a journey of stages of different styles of music and dance… do they find each other?
The show is made possible, in part, by an Arts Forward grant from the Association of Performing Arts Professionals (APAP), made possible with support from the Andrew W. Mellon Foundation.
Tickets are $25 for adults, $20 for subscribers and seniors 62 and older, $15 for youth 18 and under, non-Bucknell students, and for Bucknell employees and retirees, and $10 for Bucknell students.
This show offers a special rate for local young dancers and dance studios: young people are $5 and the accompanying parent/guardian is $15. Use promo code DRIFT at checkout, after selecting seats.
Tickets can be reserved by calling 570-577-1000 or online at Bucknell.edu/BoxOffice. Tickets are also available in person at several locations, including the Weis Center lobby (weekdays from 10 a.m. to 4 p.m.) and the Center CAP box office, located on the ground floor of the Elaine Langone Center (weekdays from 10 a.m. a.m. to 4 p.m.).
Bucknell's face covering requirements follow CDC guidelines, based on current rates of COVID-19 transmission in Union County. When transmission rates are high, face coverings are required of everyone in all indoor public and academic spaces on campus, including the Weis Center. Masks are not needed indoors when transmission rates are low or medium. This directive applies to all visitors, regardless of their vaccination status. Guests are encouraged to always have a mask available while on campus. KN95s are recommended. To see Bucknell's current status, visit bucknell.edu/COVID-19.