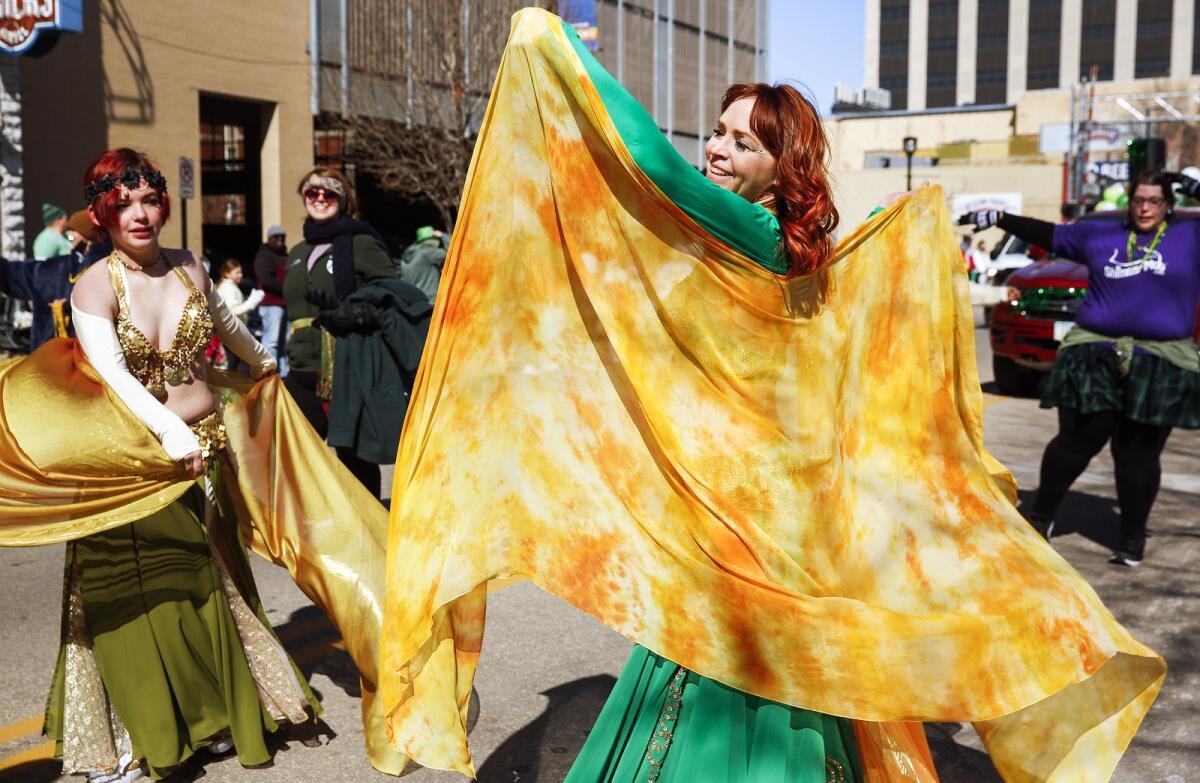 Cedar Rapids Belly Dance Troupe Raises Funds to Fight Domestic Violence
Shari McDowell leads a troupe of belly dancers March 12 during the 47th annual SaPaDaPaSo St. Patrick's Day parade in southeast Cedar Rapids. The troupe was bringing attention to the 11th annual Shimmy Mob for World Belly Dance Day to raise awareness about domestic violence. (Jim Slosiarek/The Gazette)
DeeDee McDowell (center) and her mother, Shari McDowell, lead a troupe of belly dancers March 12 during the 47th annual SaPaDaPaSo St. Patrick's Day Parade in Cedar Rapids. The troupe raises funds to combat domestic violence, which is on the rise in the Corridor. (Jim Slosiarek/The Gazette)
DeeDee McDowell (left) and her mother, Shari McDowell, lead a troupe of belly dancers March 12 during the 47th annual SaPaDaPaSo St. Patrick's Day Parade in Cedar Rapids. (Jim Slosiarek/The Gazette)
CEDAR RAPIDS — A belly dancing group jiggles to raise awareness about domestic violence and help support women's shelters, during a flash mob May 14 in Cedar Rapids.
The group is looking for dancers, sponsors and volunteers to participate in the Shimmy Mob, an international event that takes place on World Bellydance Day, the second Saturday in May. For the past 11 years, teams of belly dancers have performed on this day to support victims of domestic violence and raise money for women's shelters. The Cedar Rapids Chapter raises funds for Waypoint Services, a nonprofit organization in Cedar Rapids that provides housing services, domestic violence services, and child care.
In a Monday article, The Gazette reported that cases of domestic violence in the Corridor have increased.
READ MORE: Domestic violence cases rise in Cedar Rapids, Iowa City
From 2019 to 2020, domestic violence cases in Iowa City rose from 704 to 869. In 2021, reports rose to 958 cases, according to the Iowa City Police Department. In Cedar Rapids, domestic violence cases categorized as aggravated assault and categorized as violent crime fell from 91 in 2019 to 94 in 2020, then fell to 132 in 2021. Simple domestic violence cases declined from 2019 to 2020 in Cedar Rapids, but increased again in 2021.
At the start of the COVID-19 pandemic in 2020, many pointed to enforced home isolation as a factor. But in 2021, as vaccines became widely available and public spaces began to open up again, the number of domestic violence continued to rise.
"What has been shown is that (domestic violence) has continued to increase and will continue to increase," Alta Medea-Peters, director of community engagement for the program, told the newspaper. domestic violence response in Iowa City.
Shimmy Mob Fundraiser
Shari McDowell of Cedar Rapids started a local Shimmy Mob in 2019. Since then, the Cedar Rapids Shimmy Mob has raised around $500 for Waypoint. About 15 people attend, but McDowell hopes to grow the group this year.
Entrants can register with the Cedar Rapids team at shimmymob.com by March 31. The entry cost is around $40 and includes a beginner-friendly t-shirt and choreography.
Cedar Rapids attendees can learn the choreography together and rehearse for free at McDowell's studio, 102 Third Ave. SE at Cedar Rapids. Men, women and children are all encouraged to learn the choreography and participate. The performance will last less than four minutes. The show will take place around 2 p.m. on May 14 at Greene Square in downtown Cedar Rapids.
McDowell started belly dancing 20 years ago and invited her friends to join in the hobby. "I danced through two pregnancies and a divorce and made lifelong friends," she said.
Colleen Brown, a fourth-year Shimmy Mob participant, said belly dancing has also helped her make friends, especially when she was raising children and feeling 'isolated'. It's also "a great exercise, graceful and helps maintain your core."
"Belly dancers have historically had a reputation for being racy," Brown said. "That's not what it's about."
The Shimmy Mob is a "non-threatening way to get started" in belly dancing, Brown said. The dancers wear their Shimmy Mob t-shirts and black pants when performing.
"Even if a person is afraid to dance in public, that's fine," Brown said. "You can donate and keep training with us, or if you want to shake a leg in public, you can do that too."
April Keltner, who is taking part in Shimmy Mob for the second year, never imagined being a belly dancer "because I'm heavier," she said. After working through the "foolishness and awkwardness" that can come with trying belly dancing for the first time, Keltner said she's grown to love it.
"I've never been super feminine, but it brings out my inner woman and gives me more confidence," Keltner said. "I know that traditionally belly dancers have been known to show a lot of skin. What I love about Shimmy Mob is that we don't wear revealing clothes.
Laura Jackson, who is participating in Shimmy Mob for the second year, said belly dancing can look and feel intimidating, but Shimmy Mob is beginner-friendly and a way to "stay in touch with your body" and "stay active." ".
"It helps me get out of my head and focus on how all the parts of my body feel today," Jackson said.
For those who don't want to dance, they can participate by donating and raising awareness about domestic violence, Jackson said.
"It's for a good cause," Jackson said. "Domestic violence affects many people, including survivors and relatives of survivors. It's just a good thing to help make this conversation more accessible.
Comments: (319) 398-8411; [email protected]
Emily Andersen of The Gazette contributed.