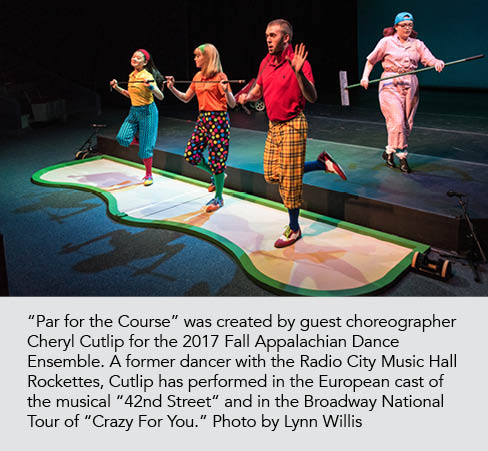 Appalachian State University presents the Spring Appalachian Dance Ensemble March 21-25
By Anna Rhodes
Appalachian State University's Department of Theater and Dance will step into the spring with its annual Spring Appalachian Dance Ensemble (SADE) performance this month. The show will take place at the Valborg Theater on the university campus at 7 p.m. from March 21-24, with a matinee at 2 p.m. on March 25. Tickets are $10 for students and $17 for adults.
This year's production features eight original pieces choreographed by teachers and students who collectively bring many dance styles and forms to the concert. SADE choreographers include four Appalachian faculty members, three dance students, and national guest artist Teena Marie Custer. All the performers are dancers on the university campus.
Custer is a street dance artist, practitioner and dance teacher at Slippery Rock University where she teaches street dance styles, contemporary dance and dance composition. She is also a faculty member of the prestigious American Dance Festival at Duke University. Custer fights and performs internationally with his all-female street dance team, Venus Fly, as well as his local Pittsburgh team, Get Down Gang.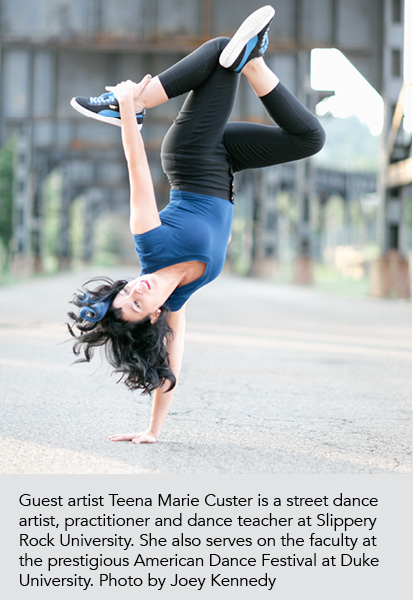 SADE Coordinator Cara Hagan, Assistant Professor of Dance Studies at Appalachian, said, "The Appalachian Spring Dance Ensemble is always a great way to put an exclamation mark on the program's school year. dance studies. The 2018 concert is packed with sensitive, bold, fun and thoughtful works from our students, faculty and guest artist.
According to Hagan, the hallmark of SADE is the wide range of styles represented on the program. This year, audiences will enjoy ballet, modern dance, jazz, West African dance and house.
"House dancing is a social form of dance that originated in the late 70s and early 80s in underground clubs in major cities like Chicago and New York and will be featured in Custer's play 'Quake'", a- she shared. "Teena is well versed in House dancing and brings a unique energy and style to everything she does."
Hagan says Custer's example of Appalachian dancers, combined with a series of masterclasses taught during his on-campus residency, will give students and the community "an insight into the rich history of house dance and the way she continues to send ripples through dance communities and pop culture.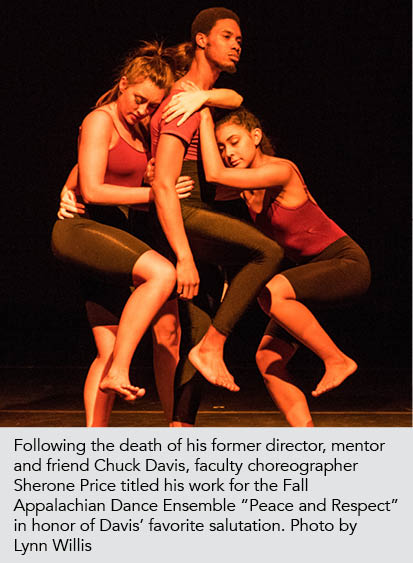 SADE will be performed at the Valborg Theater on the Appalachian campus, located on the north side of Chapell Wilson Hall on Howard Street in Boone. The theater entrance faces the rear of the Turchin Center for the Visual Arts on King Street. Parking is available after 5:00 p.m. on campus in the faculty/staff lots and after 5:30 p.m. at the College Street parking deck near the Belk Library and Information Commons. Performances take place on March 21, 22, 23 and 24 at 7 p.m. with a matinee on March 25 at 2 p.m. Tickets are $10 for students and $17 for adults. For more information on purchasing tickets, call the Schaefer Center box office toll-free at (800) 841-2787, locally at (828) 262-4046, visit the box office in person, or go online at theschaefercenter. org/tickets.
About the Department of Theater and Dance
the Department of Theater and Dance is one of seven departments of the Appalachian College of Fine and Applied Arts. Its mission is to facilitate transformative experiences for students and audiences that cultivate compassionate, creative, and collaborative communities through theater and dance. The department also offers arts-integrated learning courses to the general university student population. Its dynamic extracurricular production program provides exemplary theater and dance experiences for students in the department, the university community and the region.
About Appalachia
Appalachian State University in North Carolina's Blue Ridge Mountains prepares students to lead meaningful lives as global citizens who understand and take responsibility for creating a sustainable future for all. Appalachia's transformational experience fosters a spirit of inclusion that brings people together in inspiring ways to gain and create knowledge, to grow holistically, to act with passion and purpose, and to embrace diversity and difference. As one of 17 campuses in the University of North Carolina system, Appalachia enrolls approximately 19,000 students, has a low student-faculty ratio, and offers more than 150 undergraduate and graduate majors.
###
Media Contact
Keith Martin
[email protected]